Add My Development Needs
21 Feb 2023

1 Minute to read
Add My Development Needs
Updated on 21 Feb 2023

1 Minute to read
---
Share feedback
Thanks for sharing your feedback!
To build the development plan more effectively, you can first create development needs for the employee and then assign the learning materials in accordance with those development needs. Based on the employee assessment results either during a performance review or ongoing manager's assessment, define which competencies the employee is to develop. For each of these competencies you can create a development need.
Follow these steps to create development needs:
Go to My Learning > My Development Plan > My Development Needs.
Click Add Development Need to add a need.
Enter the development need name into the Development Need field.
Enter a description of the development need into the Description field.
Select the need type from the drop-down list in the Need Type field. The available options are:

Mandatory - a need that is required for current position
Optional - a need that is optional for current position
Career - a need that is necessary for career development and promotion

Select whether the development need is active for the employee or has already been completed from the drop-down list in the Status field.
Select a competency this development need is related to in the Competencies field.
Select the certificate the employee needs to acquire as a proof of the development need achievement from the drop-down list in the Certificate field, if necessary.
Enter the due date for completing the development need into the Due Date field.
Describe the means by which the need is to be achieved in the Development Method field.
Explain how the achievement will be measured in the How do we measure achievement field.
Enter the actual completion date into the Completion Date field, if relevant.
Click Save.
When assigning a learning material to the employee, you can link it to a development need by selecting it in the Development Need field of the assignment dialog.
You can change the default view of the development plan by clicking Filter and then the View by Development Need option. This will display the development activities grouped by the development needs.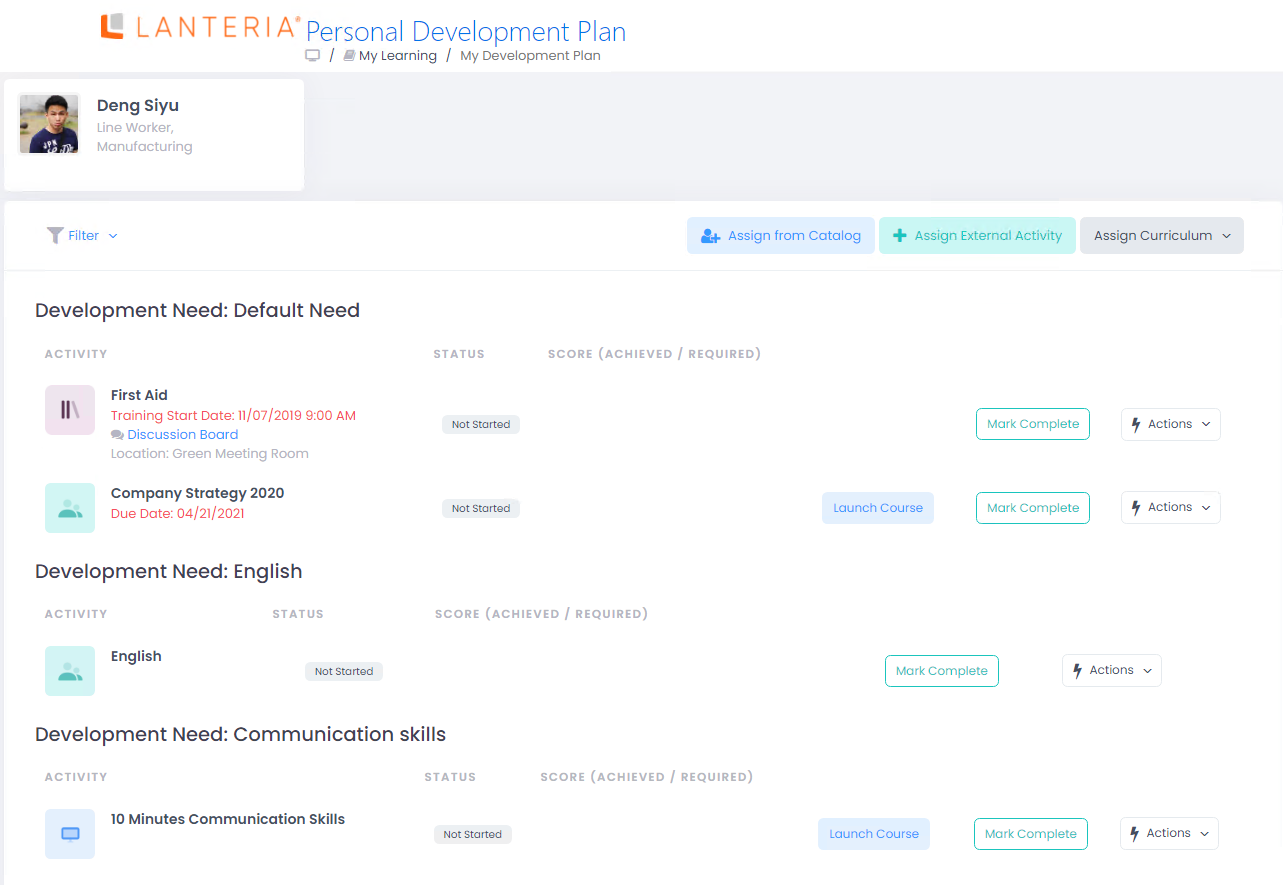 ---
Was this article helpful?
---
What's Next