Check Budget for Employee
01 Jun 2023

1 Minute to read
Check Budget for Employee
Updated on 01 Jun 2023

1 Minute to read
---
Share feedback
Thanks for sharing your feedback!
To check the budgets balance of all or several employees, use the Employee Training Budget Report.
Training budget for the individual employee is available from the Learning tab of the employee card.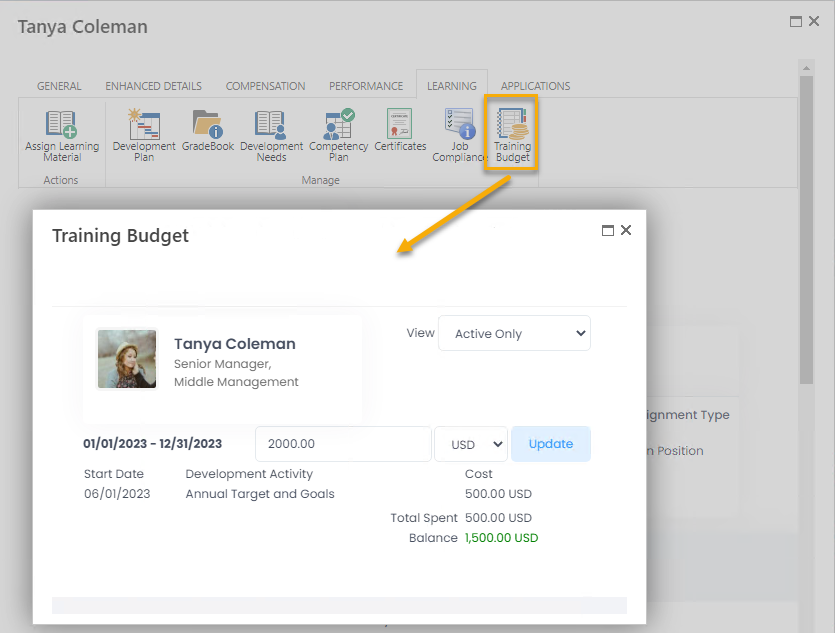 Use the View filter to display either currently active, active&future or all (active plus historical) budgets. The budget is considered as active if the current date is within the budget period.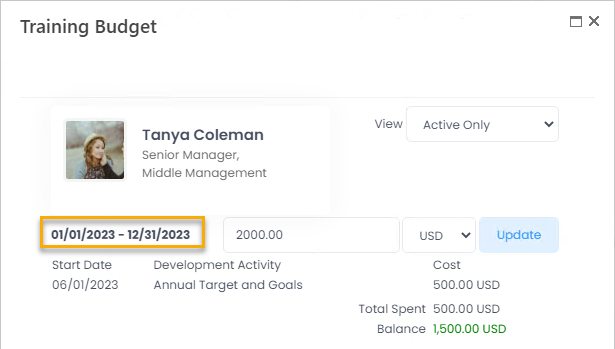 The budget period depends on the budget allocation rule based on which the budget was generated, and can be a month, a quarter or a year.
The budget amount for the period is also taken from the rule. HR user can change employee's budget amount for the current period (modify the amount and click Update).
The paid development activities that have been planned for the budget period are listed under the budget information. For each development activity, you can see its cost. Also, you can check the cost of all the activities for the current period (Total Spent) and the remaining budget amount (Balance).
The development activity will be listed in the Training Budget page and its cost will influence the balance if:
The cost and currency are specified for the learning material the development activity is based on
The training request for this activity has been approved and registered (for the request required activities)
The development activity start date is within the budget period
---
Was this article helpful?
---
What's Next