Create Organizational Units
28 Feb 2023

1 Minute to read
Create Organizational Units
Updated on 28 Feb 2023

1 Minute to read
---
Share feedback
Thanks for sharing your feedback!
After creating all the underlying organizational entities you are ready to set up the company hierarchy. For each organizational unit, you can select the manager and employees.
There are several ways to create an organizational unit.
From the Settings section.
Follow these steps to create an org unit from the settings:

Go to Settings > Settings and Configuration > Core HR.
Click Org Structure in the left panel and click Edit next to the Org Units setting name on the Basic tab.

The Org Units list will open in spreadsheet view where you can directly edit the information you need.


Using the Create Org Unit quick link in the Core HR module Quick Actions menu.
Using the Create Org Unit button on the Core HR > Org Structure > Org Structure page.

Using the new item link in Core HR > Org Structure > Organizational Units.

The last three methods will open the Organizational Units New Item form: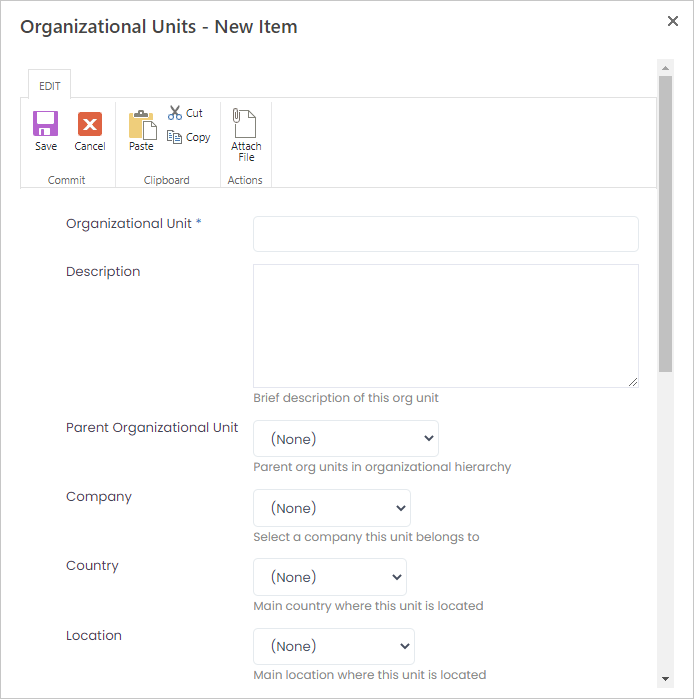 Fill in the fields with the following information:
In the Organizational Unit field, type the organizational unit name.
Provide the description for the organizational unit in the Description field.
Select the parent (managing or superior) organizational unit for the current organizational unit from the Parent Organizational Unit drop-down list.
Select the company the organizational unit belongs to from the Company drop-down list.
Select country and location the organizational unit is operating in from the Country and Location drop-down lists respectively.
Use Add button in the Cost Center field to select cost centers the organizational unit will be related to. Cost centers are used for reporting on costs allocated to organizational units that belong to them.
Select the legal entity the organizational unit belongs to from Legal Entity drop-down list.
Fill in the organizational unit identification number in the Code field.
Select the manager for the organizational unit from the Manager drop-down list.
Select the Is Inactive check box to make the organizational unit inactive, which will make it unavailable for usage and remove it from statistics on dashboards.


Note

Please, use this option instead of deleting org units so as not to impair data history.

Select the type of the organizational unit from the Organizational Unit Type drop-down list.
Select the Deny Direct Employees check box if no employees can be assigned to this org unit.


Note

If this setting differs from the same setting of the org unit type, the org unit value overrides the org unit type value.

Click Save.
---
Was this article helpful?
---
What's Next