Curricula
16 Aug 2023

2 Minutes to read
Curricula
Updated on 16 Aug 2023

2 Minutes to read
---
Share feedback
Thanks for sharing your feedback!
A curriculum is a number of courses united by the same topic or aimed to develop the same competency. For example, you can have the Leadership curriculum consisting of the learning materials that develop the leadership skills. To be able to assign a curriculum to employees, create it and add learning materials to it.
Create a Curriculum
Follow these steps to create a curriculum:
Go to Learning > Curricula or go to Settings > Settings and Configuration > Learning, click Learning Catalog in the left panel and click Edit next to the Curriculums setting name on the Basic tab.
The Curricula list will open.
Click the Add Curriculum button to add a curriculum.
Enter the curriculum title into the Title field.
Enter the description into the Description field.
Select the competencies that are supposed to be developed by the curriculum in the Competencies field.
Select the job roles the curriculum is relevant for in the Job Rolesfield.

Note

Please note that the selected competencies and job roles will be displayed for curriculum are for information purposes only.

Enter the number of days the curriculum must be completed into the Duration field. When a curriculum is assigned to an employee, all the development activities that are created have a due date calculated based on the number in this field. After the number of days specified in the Duration field passes, the status of all uncompleted development activities that were created as part of the curriculum assignment is set to Expired.
Select the

Skip Employees with Completed Activities

check box for the curriculum courses not to be assigned to the employees who already have them completed. Please note that if an employee has a development activity for the course, but it is expired or the course version is different, the course will be assigned.
Click Save.
Click the curriculum name to see the curriculum details.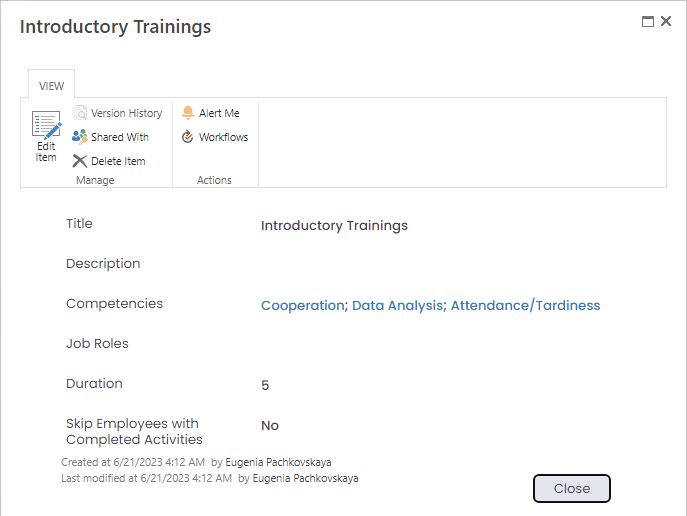 Add Learning Materials to Curriculum
Follow these steps to add learning materials to a curriculum:
Go to Learning > Curricula.
Click the Details link next to the curriculum name.
Click the Add Learning Material button.
Select the learning material in the Learning Material field and click Save.
Rearrange the learning materials within the curriculum using drag-and-drop.
To delete a learning material from the curriculum, click the delete (trashcan) button in the learning material box.
When you have all the learning materials published to the learning catalog and curriculums created, the employees and Training Manager can start using them for employee learning.
---
Was this article helpful?
---
What's Next