Job Target Integration
03 Mar 2023

1 Minute to read
Job Target Integration
Updated on 03 Mar 2023

1 Minute to read
---
Share feedback
Thanks for sharing your feedback!
Lanteria HR can be integrated with JobTaget, a comprehensive job posting distribution platform, which enables you to post your job openings to multiple employment sites, to get the right candidates more efficiently from one convenient place.
As a result of this integration, JobTarget becomes one of the job publishing options in Lanteria HR. Once a day, JobTarget retrieves all job openings posted on the Candidate Self-Service with the JobTarget publishing option. Then, using your JobTarget account, you can edit these job openings on the JobTarget site, preview them, and post to the employment sites and talent acquisition platforms of your choice. You can search JobTarget's Marketplace to see available job sites (over 25, 000) and pricing options. Each job opening retrieved from Lanteria HR and posted with the help of JobTarget has a link to this job opening on Lanteria HR's Candidate Self-Service site so that a candidate could follow this link to open the vacancy in Candidate Self-Service and apply for the job in Lanteria HR.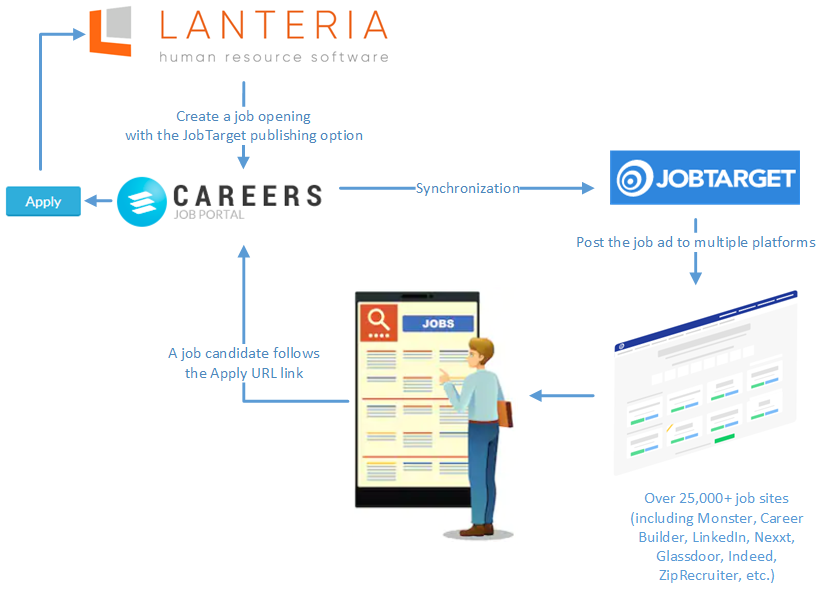 A JobTarget account is created automatically when you are configuring the JobTarget integration in Lanteria HR for the first time.
In this section, you will learn about the following:
---
Was this article helpful?
---
What's Next