Self-Schedule Job Interview
07 Mar 2023

1 Minute to read
Self-Schedule Job Interview
Updated on 07 Mar 2023

1 Minute to read
---
Share feedback
Thanks for sharing your feedback!
Instead of scheduling a job interview from Lanteria HR, the HR/organizer can request a job candidate to self-schedule a job interview from Candidate Self-Service by selecting a convenient date and time from the available dates and interview time slots. Once a request to self-schedule an interview has been created in Lanteria HR, the selected candidates receive an email with a link to a Candidate Self-Service page where they can self-schedule the interview.
To self-schedule a job interview:
Open the email that you received after a request to schedule a job interview had been created in Lanteria HR, and click the generated hyperlink in the email.
On the Interview Self-Schedule page that is open, choose a date for the interview. You can schedule only for a future date (not for today). Available dates are marked by the icon. Availability of dates and time slots depends on the interview schedule configured for this job opening.

Note

This page is not accessible by browsing the Candidate Self-Service site; it can be opened only by following the generated hyperlink in the email with the request to self-schedule a job interview.

Check the time zone under the calendar. If necessary, you can change it to yours to see available time slots in your in your time zone. Time zone can be changed even after a job interview has already been self-scheduled.
On the right side, choose a time slot for the interview.

Note

You will not be able to choose time slots already booked by other candidates.

Confirm you choice by clicking the Confirm button that appears.
Information about your scheduled interview appears above the calendar.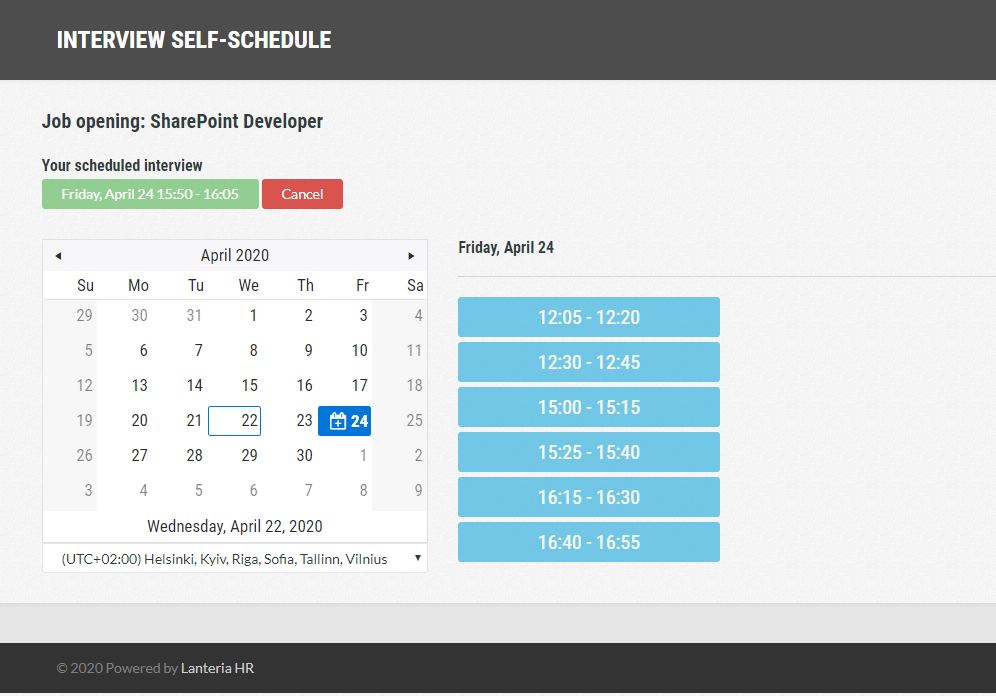 An email notification about registered job interview will be sent to you.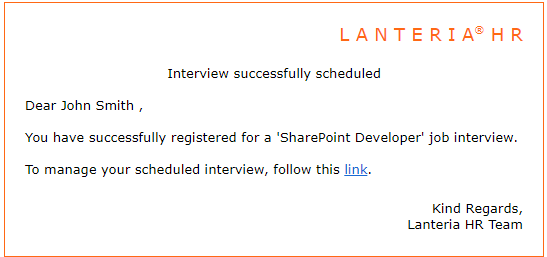 Additionally, an email notification about registered interview will be sent to the the interviewer(s) and organizer.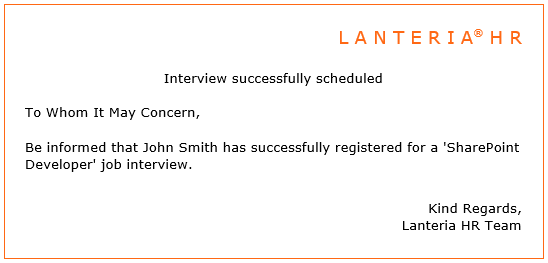 Note
Email notifications, related to self-scheduling a job interview, are
customizable
and text can be different in your case.
You can view your scheduled interview from the My Applications page of Candidate Self-Service. Also, you can follow the same link in the initial email (with the request to schedule an interview) to open the Self-Schedule Interview page again and view the interview date and time.
Cancel a Self-Scheduled Interview
Self-scheduled interviews can be cancelled if necessary: click Cancel next to the scheduled date and time, and then click OK on the confirmation message that appears.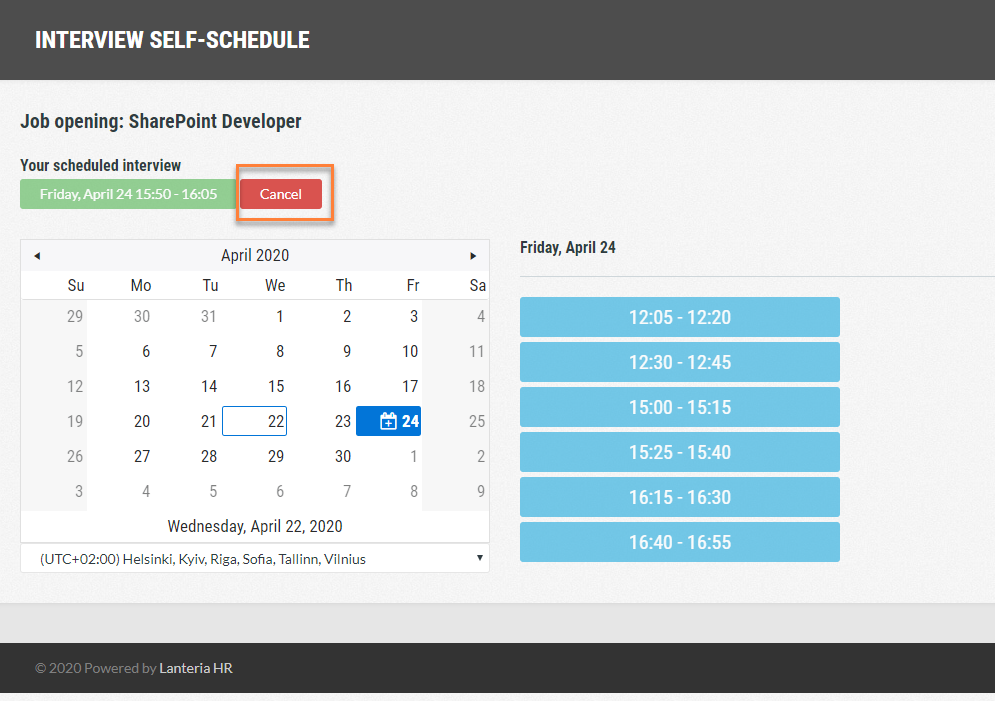 Note
Alternatively, you can cancel a self-scheduled job interview from the My Applications page in Candidate Self-Service, just like interviews you were invited on, by clicking Cancel below the interview details.
---
Was this article helpful?
---
What's Next