Timesheet Approval
20 Apr 2023

1 Minute to read
Timesheet Approval
Updated on 20 Apr 2023

1 Minute to read
---
Share feedback
Thanks for sharing your feedback!
If the timesheet approval option is enabled (Timesheet Approval Workflow is set to Monthly or Weekly in Settings and Configuration), after the employee fills in the timesheets and submits them to the manager for approval, the manager receives an e-mail notification with a link to the page where they review the timesheets and approve them, reject or request changes.
To get the timesheet approval overview and check the timesheets pending approval, use the Timesheet Approval button in the Timesheet Report (Time & Attendance > Timesheet Report). If there are any pending timesheets, the button will display orange and will show the number of unapproved records. If there are no timesheets for approval, the button will display grey.
Note
Please note that the

Timesheet Approval

button is not available if the

Timesheet Approval Workflow

is set to

Never

(

Settings

>

Settings and Configuration

>

Time and Attendance

>

Timesheets

).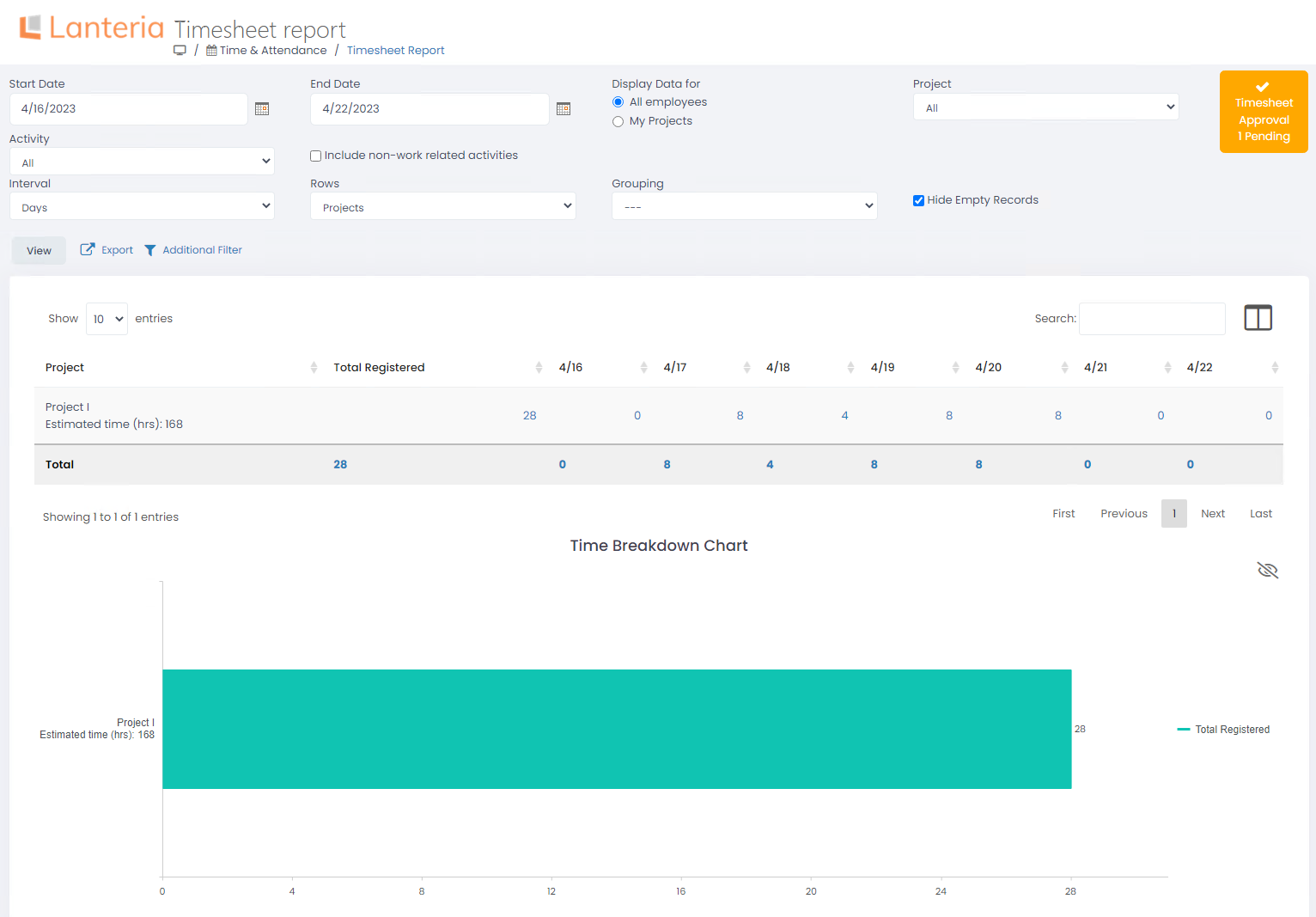 Click Timesheet Approval to open the Timesheet Approval Management page. By default, the Period is set to 2 months and the Only Employees with Pending Records check box is selected, meaning that only employees who have unapproved timesheets for the current and 2 previous months are displayed.
To process the approval request, click the arrow in the pending request box (next to the number of hours to approve) and then Approve/Reject.


You can also check the timesheet records behind the approval request by clicking Details. The approval history is available by the History button.
For the periods with no pending requests (formatted with light grey), you can also click Details (becomes available upon clicking the arrow) to view the timesheet records for the period.
---
Was this article helpful?
---
What's Next