Career Portal Application Statistics
14 Nov 2023

1 Minute to read
Career Portal Application Statistics
Updated on 14 Nov 2023

1 Minute to read
---
Share feedback
Thanks for sharing your feedback!
The Career Portal Application Statistics report is available from Recruiting > Candidates and displays data for the Candidate Self-Service application form(s). It is based on progress the candidate makes when filling in the form on each of the self-service sites (if there is more than one). The progress is tracked not per candidate, but per application.
The Reached Application Progress chart shows how many applications stopped after each of the steps. For example, on the chart below:
0% of those who registered and didn't proceed further
50% of the applications had only Personal Details section filled in and after that, candidates exited the form
10% of the applications had Personal Details and Employment and Educational Details sections filled in
10% of the applications had Personal Details, Employment and Educational Details and Documents sections filled in
30% of the applications were submitted
The Completed Application Steps chart shows how many applications completed each step. For example, on the chart below, 6 candidates registered, 10 applications had the Personal Details section completed, 5 applications had the Employment and Educational Details section completed, 4 - the Documents section, 3 - submitted the application.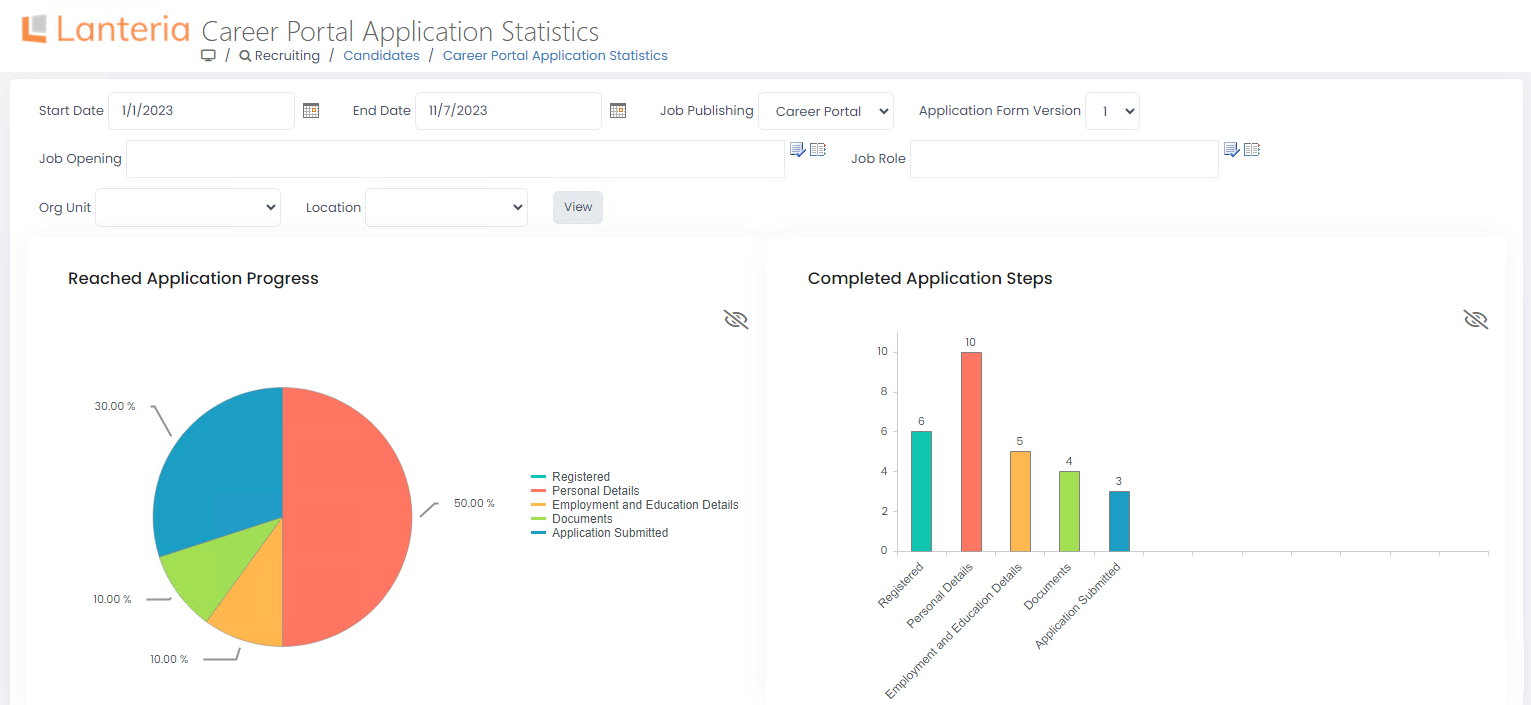 Filter the report to view data for specific date range, org unit, location or job role.
If you have more than one career portal (Candidate Self-Service site), switch between the sites using the Job Publishing option. Please note that the site will be available for selection in the Job Publishing field if the report has some data to display for it (check the prerequisites for the data display below).
Also, if there were any changes to the application form section (step) names, statistics will be separately tracked for each form version. Switch between them using the Application Form Version field. Please note that changes to the section body do not lead to creating a new version of the application form. For a new version to be created, there must be changes to the section titles in the default language.
For the report to display data, the following prerequisites must be met:
Candidate Self-Service must be set up
Job publishing option of the Career Portal type must be set up for each Candidate Self-Servicesite
At least one job opening must be published and some application steps must be completed by candidates
To view the most recent data, run the Candidate Tracking job
---
Was this article helpful?
---
What's Next