Local HR Menu Overview
13 Jul 2023

1 Minute to read
Local HR Menu Overview
Updated on 13 Jul 2023

1 Minute to read
---
Share feedback
Thanks for sharing your feedback!
The Local HR menu was designed specifically for the Local HR role, which responsible for a part of the company and normally has limited HR access. Therefore, information displayed in the Local HR role is always filtered by company, country, location, and org unit the Local HR is assigned to in the Local HR settings.
The Local HR menu is available after selecting the Local HR role in the Lanteria HR home page. This menu provides access to Lanteria HR features, available for Local HR out of the box.
Note
You can further adapt the system modules, menu sections and menu items that the local HR can access to your specific needs by using
Permissions Editor
,
Menu Sections
, and
Menu Items
settings. However, if a feature was not designed to work with the Local HR role, granting access to it will not be enough to make it work with the role.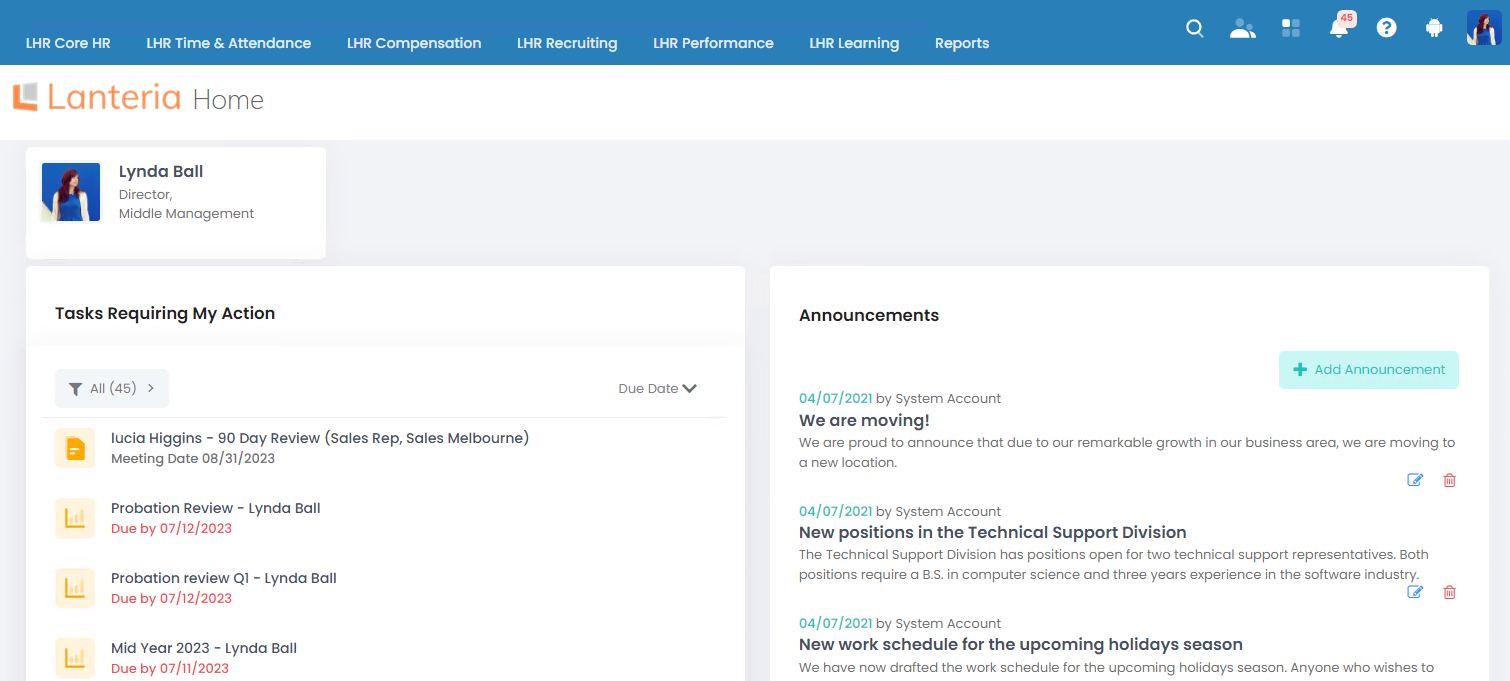 From the Local HR menu of Lanteria HR, you can:
Core Local HR:

Manage the organizational structure
Manage employee and employee documents
Manage the on-boarding and off-boarding processes, including the probation review
View Core HR reports
View and approve requests

LHR Time & Attendance:

View the out of office calendar, absence statistics
View and add vacation restrictions

LHR Compensation:
Start a salary review round
Get compensation-related statistics: view the salary timesheet as well as employee bonuses
LHR Recruiting:

Manage job openings: view existing and create new ones
Track and create new candidates
View and schedule job interviews

LHR Performance:

Manage employee and org unit goals as well as KPIs
View performance reviews and assess employees' performance
Start and manage 360 Feedback review rounds
Get an overview of employee competencies

LHR Learning:

Manage the Learning catalog
Create and manage employee learning groups
View and approve training requests

Reports:

Access the report center to run general (out of the box) and custom (created by HR or Local HR) reports
The availability of these functions depends on the system configuration. Companies can have different policies in terms of individual policy configuration. This guide describes all the possible functions.
All the actions described are performed in the Local HR role, unless stated otherwise.
---
Was this article helpful?
---
What's Next