Absence Plan Allocation Rules
01 Jul 2023

1 Minute to read
Absence Plan Allocation Rules
Updated on 01 Jul 2023

1 Minute to read
---
Share feedback
Thanks for sharing your feedback!
The system selects the absence plan to generate allowances for an employee based on the following priority scheme:
The absence plan that is assigned directly on the employee card.
If no plans are assigned to the employee directly, the system looks for particular absence plan allocation rules that are applicable to the employee's country.
In case no particular absence allocation rules are set up, the system uses the default absence plan for generating allowances.
To learn more about assigning absence plans to the employees directly please refer to the Employee Card section of the guide.
The default absence plan is established as part of the Absence Plans settings.
The per-country absence plan assignment rules are part of the Time and Attendance settings.
Follow these steps to establish per-country absence plan assignment rules:
Go to Settings > Settings and Configuration > Time and Attendance.
Click Absences in the left panel and click Edit next to Absence Plan Allocation Rules setting name on the Basic tab.

The Absence Plan Allocation Rules list will open in spreadsheet view where you can directly edit the information you need.

Enter the following information to create an absence plan allocation rule:
Type in the rule name in the Title column.
Select the country the rule will be applicable to from the drop-down list in the Country column.
Select the absence plan to use from the drop-down list in the Absence Plan column.
You can also select the job grades the allocation rule will be used for by selecting the corresponding check boxes in the drop-down list in the Only for Job Grades column. This rule will then take precedence over the other rules applicable to this country for employees belonging to this job grade. Please note that this field is optional and can be left blank if absence plans for all job grades are the same in this country.
To edit the absence plan allocation rules individually you can either click on the rule name or select Edit Item from the list item menu.
This will open the absence plan allocation rule details form in the edit view.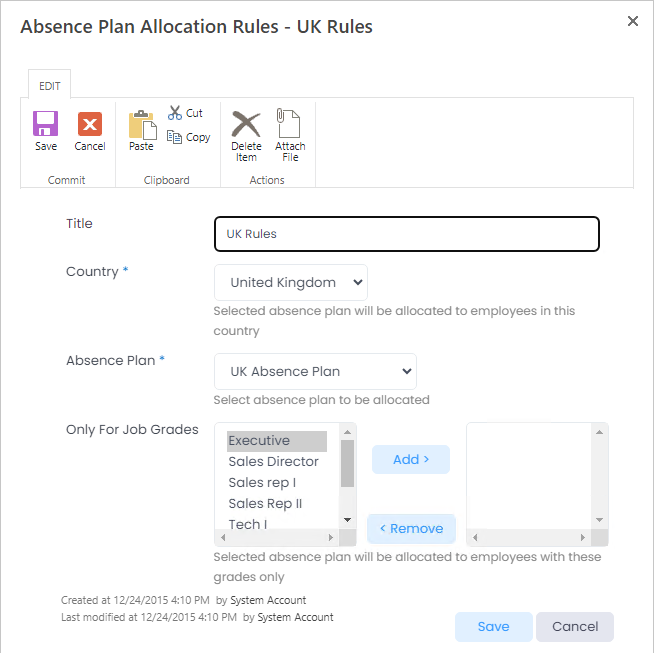 ---
Was this article helpful?
---
What's Next