Carried Over Paid Leave
22 Feb 2023

2 Minutes to read
Carried Over Paid Leave
Updated on 22 Feb 2023

2 Minutes to read
---
Share feedback
Thanks for sharing your feedback!
If an employee does not use up all paid leave days in the current accrual year, the remaining days can be carried over to the next year. At the end of the accrual year, the unused paid leave days are automatically moved to the new period as carried over days. Before carried over days become active and usable, they are to be approved by the HR manager or the employee's manager unless the absence plan has automatic approval set up.
To plan future absences, it is possible to view projected paid leave summary for an employee – forecast that shows paid leave allowance calculated as of a date in the future on the basis of the employee's current work pattern and absence plan.
Please note that for correct generation of the carried over days, all the absence requests for the passing accrual period must be approved. For example, the accrual year in a company starts on Jan 1. On Jan 1, the new allowance will be generated and any unused vacation days will be carried over to the next period. As of Jan 1, an employee has a pending vacation request for Dec 27-Jan 2. In this case, the employee will have 5 days carried over to the next period, since the vacation request was not approved and the requested days are not accounted as taken vacation. After the vacation request is approved, the vacation statistics will be incorrect. You can use the End of accrual period reminder to remind HR about approving any pending absence records.
Note

If you have negative carried over units, i.e. when overbooking is allowed for an absence plan and you used more than allowed in the previous accrual period, the next accrual period may start either with negative carried over paid leave units or the carried over units will be reset to zero depending on whether the Allow Negative Carried Over Units setting is enabled in the
Advanced Time and Attendance Settings
.
View and Use Carried Over Paid Leave
Each employee can view his or her carried over paid leave in the Employee role menu under My Time and Attendance > My Absences (check the Carried Over field). If the carried over paid leave is not used within the number of months specified in the Carried Over Expiration Months field it expires. The amount of expired time off can be seen in the Expired field.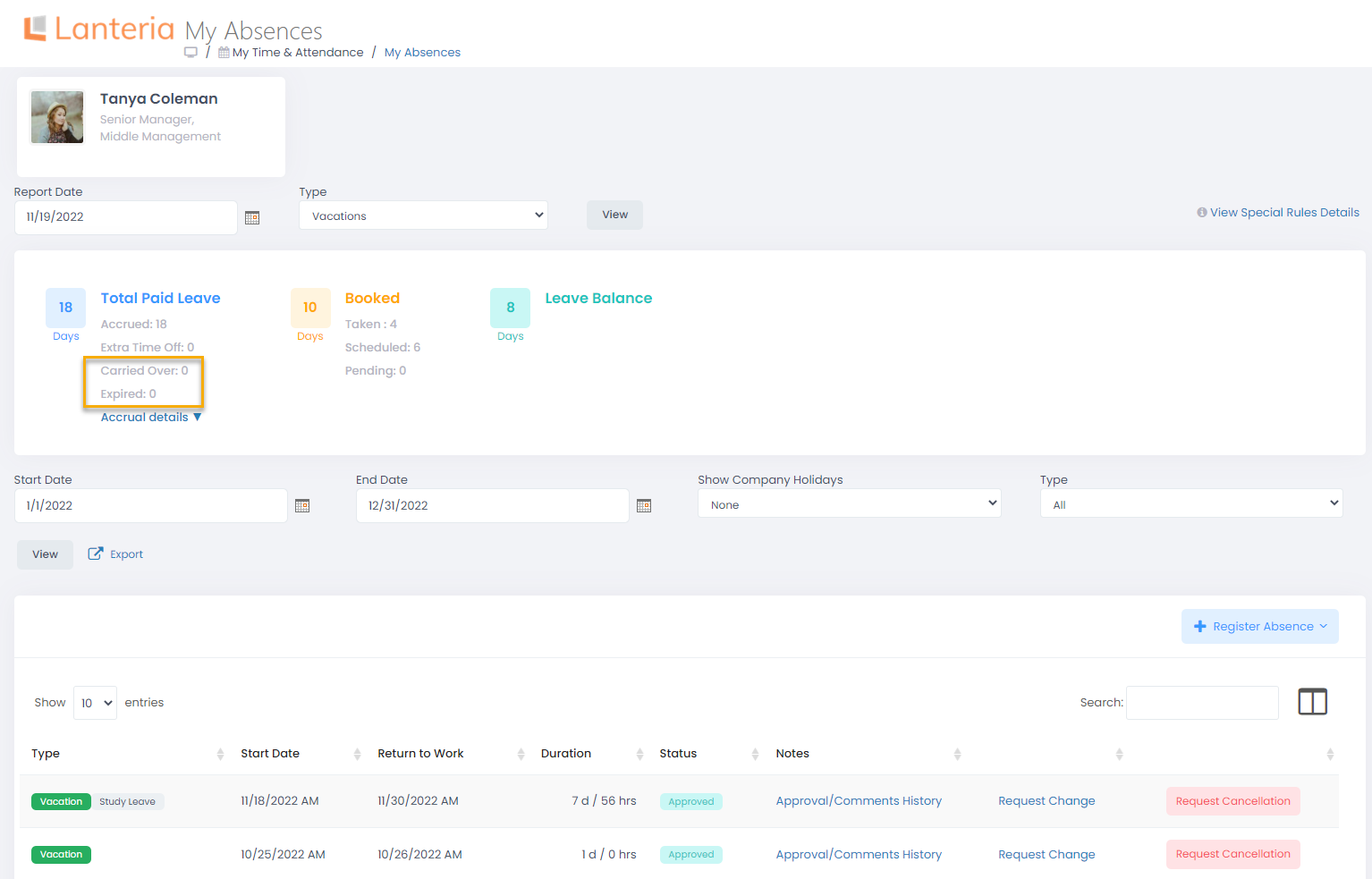 It is enough to send a regular vacation request to use the carried over time off. The total number of paid leave days will be equal to sum of the allowance, carried over and extra time off. When a vacation is requested, the carried overs are used first, then the extra time off and then the vacation allowance itself.
HR manager can manage the carried overs under Time & Attendance > Absence Lists > Vacation Carried Over.

---
Was this article helpful?
---
What's Next