Rehire Employee
09 May 2023

1 Minute to read
Rehire Employee
Updated on 09 May 2023

1 Minute to read
---
Share feedback
Thanks for sharing your feedback!
The terminated employees can be onboarded again some time after termination. In cases like this, the employee is not created again, but the terminated employee record can be activated, provided that the employee data wasn't deleted or anonymized.
To rehire the terminated employees, follow these steps:
Use the employee search to find an employee to be rehired (Core HR > Employees > Employees, enter the keyword and select the Include Terminated Employees check box in the Additional Filter, click View).
or locate the employee in the Terminated Employees list (click Core HR > Employees > Terminated).

Click the employee name to open the card.
Next, click Change Job to assign the employee to a job position and activate the employee record.

Provide the job position details, set Status to Active, provide the new Full Time Equivalent, specify the date from which the employee is assigned to the job.

In the Change Reason field, select Rehire.
The Employment Date is by default set to the original hire date. You can change it to the rehire date. Also, provide the Service Date, if relevant (the

date

from which an employee can be entitled to start

accruing the absence allowance). For example, you can leave the initial employment date, but set the Service Date to the date of rehire.
Select the Enable changing Salary Details check box if you are to specify the employee's salary details.

Click OK.
If the Assigned From date is in the future, the Future Assignment record will be added to the employment history (click Employment History on the employee card ribbon) and the employee will be activated on the day of assignment start.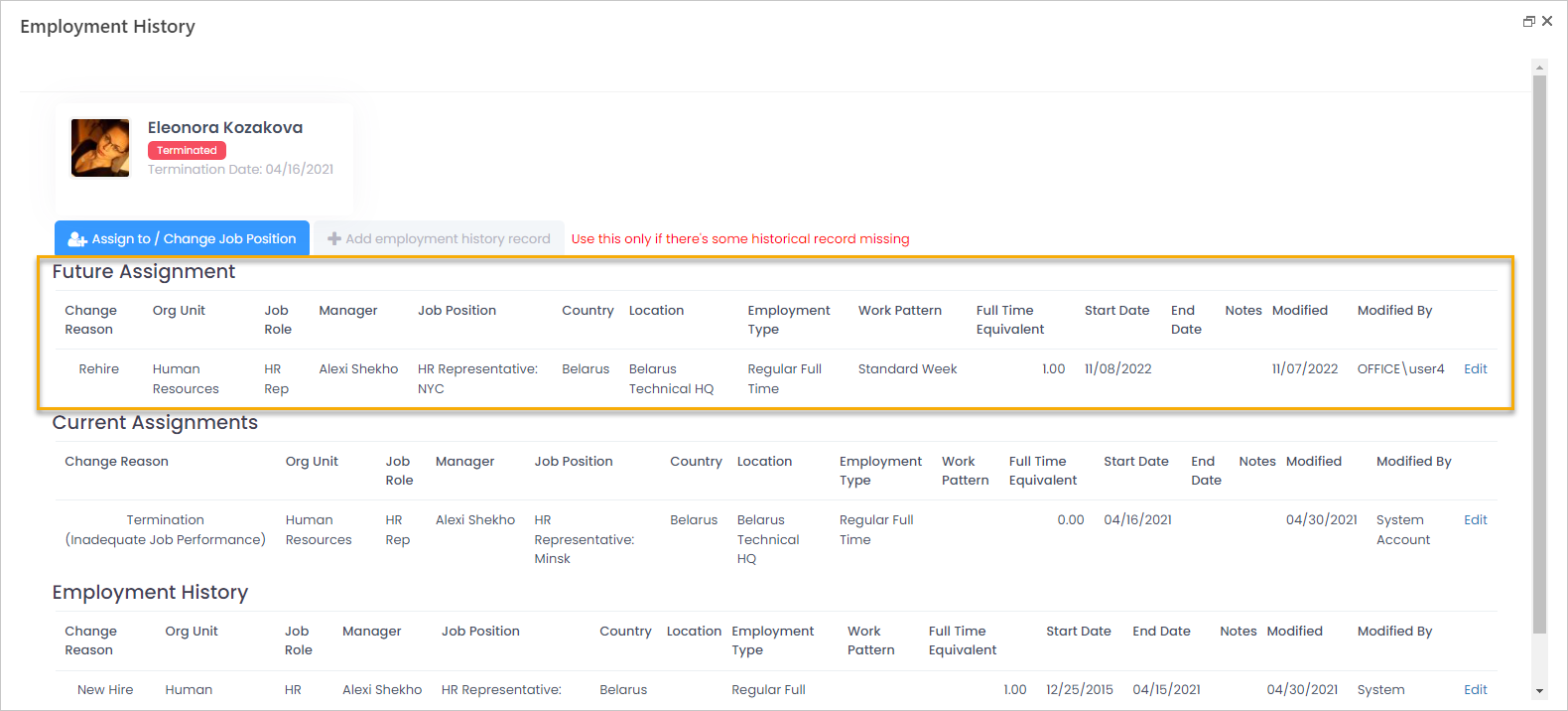 If the Assigned From date was set to today's date or date in the past, the employee record will be activated after clicking OK in the new assignment form.
---
Was this article helpful?
---
What's Next