Positions
28 Feb 2023

2 Minutes to read
Positions
Updated on 28 Feb 2023

2 Minutes to read
---
Share feedback
Thanks for sharing your feedback!
Job positions are specific positions needed for each company organizational unit.
Follow these steps to create a job position:
Go to Settings > Settings and Configuration > Core HR.
Click Org Structure in the left panel and click Edit next to the Positions setting name on the Advanced tab.

The Job Positions list will open in spreadsheet view where you can directly edit the information you need.

Another way of creating job positions is to use the new item button on the Job Positions form found at Core HR > Jobs and Positions > Job Positions.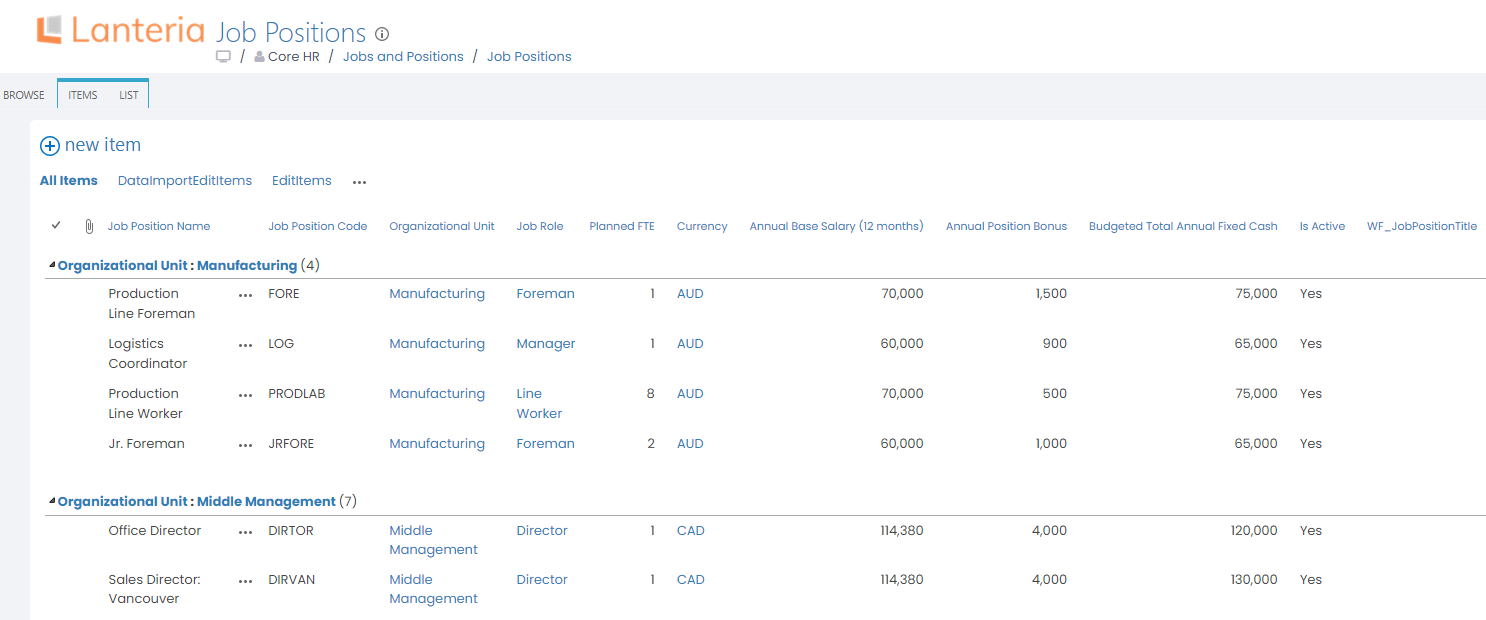 or click the Create Job Position quick action link in the Core HR second-level menu,

which will launch the job position edit form.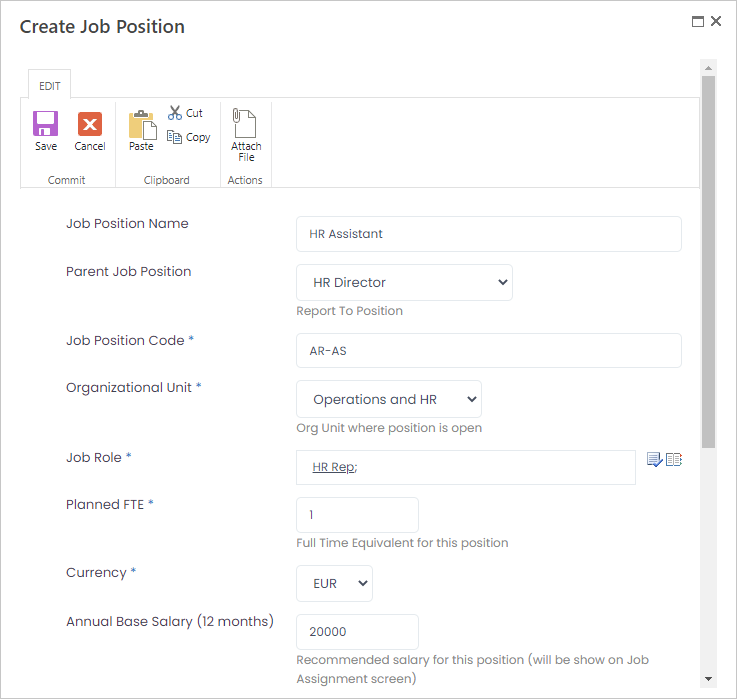 Enter the following information to create a job position:
Enter the job position name into the Job Position Name field.
Select the managing position for this position from the Parent Job Position drop-down list.
Enter a short identifier for the position in the Code field. Please note that in some forms it is displayed without title, so it should be descriptive enough.
Select the organizational unit the position belongs to from the Organizational Unit drop-down list.
Select the job role that corresponds to the current position from the Job Role drop-down list.
Specify the number of FTE planned to occupy this position in the Planned FTE field. You can choose to maintain a detailed structure by creating separate positions for each employee or specify that several employees occupy the same position by entering an FTE > 1. This will mostly depend on how detailed you want your salary planning to be.
Select the currency for budgeting the salary from the Currency drop-down list.

Specify base salary for FTE = 1 in the Annual Base Salary (12 months) field. Please note that it is the salary for one employee not including bonuses and additional payments and it should be multiplied by FTE to obtain a total for all the employees in this position.
Specify the budgeted amount for annual bonuses for FTE = 1 in the Annual Position Bonus field. Note that this is not the performance-related bonus.
Specify the total annual salary (base salary, bonuses, additional payments) for FTE = 1 in the Budgeted Total Annual Fixed Cash field.
Select the Is Active check box to if the position should be currently active. Clear the check box if the position is not needed right now, for example, if it was created for future use.
Specify the total FTE for the employees you are planning to hire on this position in the Budgeted FTE field.
---
Was this article helpful?
---
What's Next